The time for new product development
We have developed as many items of products as possible to meet our customers' needs. If it happens that we have not developed a certain item of new product, we welcome our customers to provide us samples or we purchase samples for development by ourselves, as long as there is a certain amount of purchases for this product. The following is our usual new product development cycle. If you urgently need a certain product to seize the market, we can also work overtime to develop it for you as soon as possible.
1. If we or our cooperative suppliers have corresponding molds and only need to make small changes, the new product development cycle is 1~3 months.
2. New products that meet the requirements of the aftermarket: the development cycle that requires mold opening is 6 months. They are 3 months for mold opening, 1 month for mold trial verification, 1 month for product verification, and 1 month for mass production preparation.
3. The new product development time according to OEM standard is 1 year. They are 3 months for pre-design, 3 months for mold design verification, 3 months for product verification, and 3 months for pre-production preparation.
See table 1.

New product development process
1. It will be very grateful if our customer can provide us 3 original samples; if the customer cannot provide original samples, we will try to buy OEM samples.
2. Product performance data testing and file keeping, dimension surveying and mapping, and one sealed sample.
3. Three-dimensional modeling, internal structure design, decomposition and combination design of various components.
4. Mold design for each component.
5. Make molds for each component.
6. Mold trial verification of each component, modification of details.
7. Determine the material of each component, and trial-produce samples in small batches.
8. Sample test, compare and verify the data with the sealed sample, modify and adjust the data to be ≥ 90% consistent with the sealed sample.
9. Sample laboratory verification. If failure, re-sample and re-test until the test passes.
10. Send samples to our customer for confirmation.
11. Pre-production preparation, formulation of production materials, production of tooling and fixtures, and production of various accessories and materials.
See the following concise process.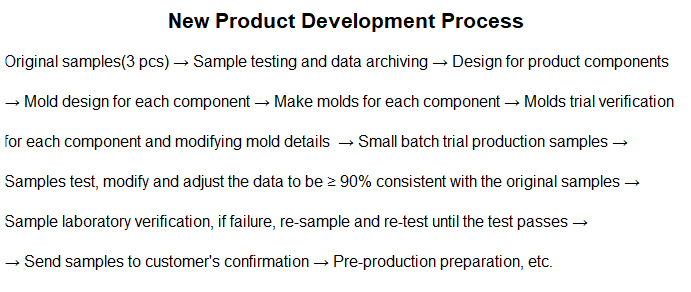 How to share the mold charges
If there is a certain amount of new products, the customer generally only needs to provide 3 corresponding original samples, and the mold charges are generally borne by us. If it is an older product or a new product but the purchase quantity is not large, the customer needs to provide samples and also needs to bear the mold cost first. After the future orders for this product reach a certain amount, the mold charges can be fully refunded. All these matters will be clearly written down in the proforma invoice to eliminate customers' concerns.
If you still don't understand something about our new product development, please send an email, we are very happy to answer your questions in a targeted manner.